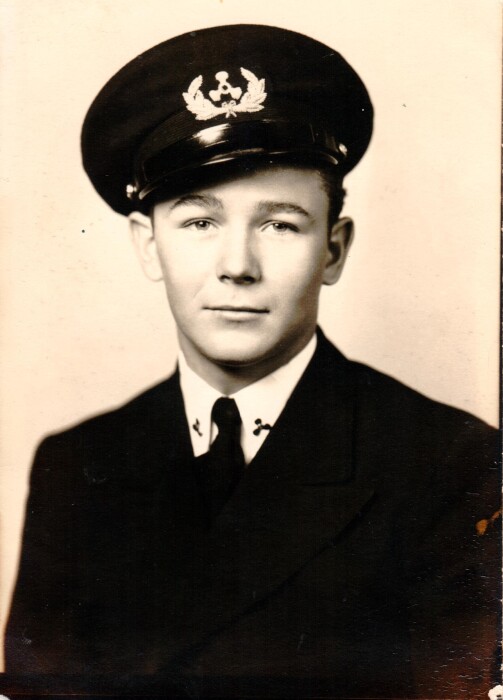 William Daniel Schomerus, age 94, of Quinlan went to be with his Lord and Savior on Tuesday, January 12, 2021 at his residence. Funeral Services celebrating Mr. Schomerus life will be held at 10:00 A.M. Tuesday, January 19, 2021 at Ingram Funeral Home in Quinlan with Jason Nichol officiating, interment will follow at Hamilton-Beeman Cemetery in Corsicana, Texas.
William Daniel Schomerus was born on December 22, 1926 in Corsicana, Texas to Weert Sassen Schomerus and Lillie Iola Lofton Schomerus. He met the love of his life, Miss Marilynn Jackson in Corsicana and they were married on September 1, 1947.They made their home in Fort Worth for 12 years before moving to Mesquite. William enlisted into the USCG- Merchant Marines on August 16, 1945 and honorable served his country as a fireman and watertender for the Liberty ship SS Edwin H. Duff. He also worked for Montgomery Ward Department Store in Dallas, Texas from 1946 until 1983, when he retired as store manager, after 37 years with the company. In 1970, William and Marilynn moved to Quinlan where he enjoyed spending time fishing and hunting with his son. Shortly after his retirement in 1983, William went to work in sales for his son at Mike Schomerus Allen Roofing Company. He retired for the final time in 1992 with 46 years of service in sales. Marilynn passed away on November 4, 2011 after 64 years of marriage. He was also preceded in death by his sister, Iola Virginia Antill and two brothers, Jessie Raymond Schomerus and Densil Weert Schomerus.
He is loved and missed by his son, Michael "Mike" Schomerus and wife Kaye of Quinlan, daughter, Sherry Lynn Schomerus of Oregon, sister, Iola Frances and husband Glenn Phillips of Flower Mound, Texas; grandchildren, Michelle and husband Jason Nichol of Bentonville, Arkansas, Stormi and husband Nathan Kunz of Royse City, Danny Harris and husband Anthony of Clackamas, Oregon and Rayna and husband James Stiner of Puyallup, Washington, great-grandchildren, Haley Nichol of Arkansas, Jolan Stiner of Oregon, Jase Nichol of Arkansas, Javin Stiner of Washington, Micah Nichol of Arkansas and Addi Kunz of Texas and numerous nieces, nephews and friends.