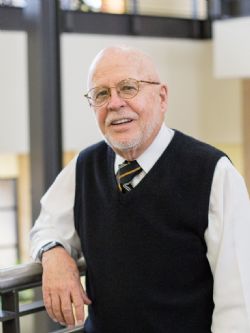 Robert Harold "Bob" Felder, age 80, of Greenville, passed away Saturday, March 7 following a heart attack. He was born December 4, 1939, in Port Arthur, Texas, the third son of Kermit and Celeste Miller Felder. He graduated from Sam Houston State University with a master's degree in business administration.
After All-State honors as Port-Neches Grove High School first baseman, a minor league offer forced a critical decision between a baseball career and marriage. He rejected baseball and chose to marry Bettie Hebert in Groves, Texas, in 1960. The couple recently celebrated their 60th anniversary.
As an instructor at Eastfield College, Bob cared deeply for his economics students. It is estimated that he taught more than 47,000 students in his 50-plus years with the Dallas County Community College District but he made a point of learning each student's name. He resisted offers to move into administration roles to focus on those individual students. It pleased him that both his son and daughter also became teachers.
For many years he helped advance his wife's art career, doing everything from framing her artworks, cleaning paintbrushes, and traveling to distant art shows to present and sell her paintings and prints.
Earlier in his life, Bob trained for and completed several marathons and reluctantly gave up running after knee injuries. His sports interests continued as a faithful supporter of his children and grandchildren's athletic pursuits.
A longtime board member of Gospel for Asia, he traveled to India three times to participate directly in the Christian ministry the couple supported. He was a member of the church his son pastors, Dixon Baptist Church in Greenville.
A loving husband, father, grandfather, and supportive friend, he was known by all for his Christian faith, humbleness, and fun-loving spirit. His sense of humor thrilled primary students when he wore a Superman costume as a crossing guard and made college students smile with his rock star impersonations.
Bob is survived by wife Bettie; son Randy Felder (wife Nadia); daughter Kristina Compton (husband Mark); eight grandchildren (Kristina Felder, Katy Felder, Kaleb Felder, Kasey Felder, Madison Hall, Austin Hall) and step-grandchildren (Adam Compton, Matthew Compton, and Lauren Parra); sister-in-law Jo Ann Meinscher; brother-in-law Don Hebert (wife Sandra Hebert); three nephews (Matt Hebert, Andy Hebert, and Jimmy Deford); niece Cathie Jo Floyd; great-nephew Colin Westmoreland; great-nieces Jessica Summers and Sabrina Torres; and multitudes of friends. His parents and two brothers, Jim and Charles, preceded him in death.
A memorial service will be held at 3 pm, Sunday, March 15 at Dixon Baptist Church, 3668 Hwy 69 South, Greenville, TX under the direction of Coker-Mathews Funeral Home. The family would love to have you come to celebrate his life and honor his Savior. In lieu of flowers, please make a donation to Gospel for Asia, https://www.gfa.org/donation/