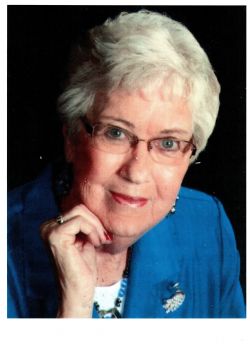 Leta Mae (Bench) Money passed away at the age of 91 years on December 20, 2020 peacefully at her home surrounded by family members. Visitation will be Tuesday, Dec 22nd at Coker-Mathews funeral home from 10am to 4pm. A graveside service will be held at Memoryland Memorial Park, officiated by Rev. Dewey Davidson at 2pm on Wednesday, Dec 23rd.
She was born in the Salem community near Greenville Texas on July 21, 1929 to Arvel and Ada Bench. On June 28, 1947 she married Merrick "Mickey" Money and they were both lifetime residents of Hunt County, Texas. They were happily married for almost 65 years and together they had four sons and one daughter.
Leta was a long-time member of Salem Kinser United Methodist Church and in recent years was an active and faithful member of Highland Terrace Baptist Church. Her passions in life were lovingly serving and encouraging her family and friends. She selflessly stood by and supported her husband through his lifetime of public service. Along with her husband Mickey, she hosted thousands of guests at Money Lake at events including reunions, fish fries, country dances, seasonal parties, swimming and boating outings, fishing tournaments, church services, holiday meals, weddings, political rallies, campouts and more.
In every way and by any standard, she would be considered a "SUPERMOM". Growing up in her home, you would have awoken early to a home cooked breakfast seven days a week before being lovingly sent off to school, work, church, or play. In addition to being a wife and Mom, she served as Chief Encourager, Chauffeur, Family Nurturer, Home Room Mom and many other loving roles. For the last several years she has hosted what her family calls the "Early Bird Café" in her kitchen every Saturday morning for her grown sons and daughter to just get together and visit. She will be greatly missed!
Leta is survived by son Wayne Money and wife Sandy, son Kenneth Money and wife Mitzi, son Terry Money, son Dale Money and wife Cecilia, and daughter Gail May and husband Phillip. Leta had 15 grandchildren – Stephanie (Money) Lewis and husband Marc, Jeff Money, Curt Money and wife Dawn, Kevin Money and wife Sarah, Brent Money and wife Heidi, Angela Collins and husband Ben, Landon May, Jordan May and wife Ali, April Scott and husband Steve, Daniel Money and wife Chris , Patrick Money and wife Kristin, Aaron Money and wife Cassidy, Timothy Money, Mitchell Money, and Adalyn Money. She also is survived by 29 great-grandchildren and one more on the way; also by one sister, Martha Baughman, brother-in-law Corky Hall, sister-in-law Patsy Lewis, brother-in-law Donnie Money and wife Donna and many nieces and nephews
She was preceded in death by her faithful husband Merrick Money, her parents Arvel and Ada Bench, two brothers, Vernon Bench, Sr. and Eugene Bench and two sisters, Sybil Burton and Ruth Duncan, and their beloved spouses.
In lieu of flowers, memorials may be sent to Highland Terrace Baptist Church Building Fund, 3939 Joe Ramsey Blvd., Greenville, 75401.
Online condolences may be made at www.cokermathews.com
We are requesting that you limit the size of the gathering during the viewing due to concerns regarding the current health crisis. Please feel free to come and pay your respects but limit your contact with others as per recommended guidelines from the CDC.