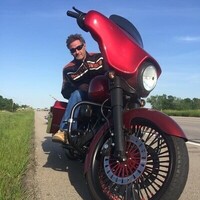 Leslie Clay Sandlin 55, passed away surrounded by family and friends on July 16, 2021, at his home in Greenville, Texas.
Clay was born on May 11, 1966, to Luther Bennett and Mary (Johnson) Sandlin in Greenville, Texas.
Clay owned and operated Sandlin Roofing Company in which he invested hard work and great pride. He was a faithful member of Family Fellowship Church in Greenville. In his free time, he could be found riding his Harley-Davidson, spending time boating and in the mountains. Clay leaves lasting and wonderful memories for his family and friends.
Clay is survived by the love of his life, Donna Sandlin; daughters, Cassie Knighton, Jessica Nunez (Johnny), Gracie Semento (Martin); grandchildren: Meagan, Cheyenne, Taydin, Rylin, Linlee, Ava; along with a host of loving relatives and friends.
He is preceded in death by his parents.
A Memorial Service will be held on Wednesday, July 21, 2021 at 10:30 AM in the Lynch Funeral Service Chapel in Greenville, Texas.