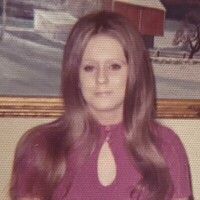 "Some people only walk this earth for a short time, and with their departure it reminds us that angels are watching over us." Diana Lynn McCoy passed away on December 9, 2020 in Greenville, TX due to complications with COVID-19 and is now an angel up above.
Diana was born to Paul and Geraldine Manchen in Dallas Texas on April 13, 1951. Diana married Dennis McCoy on Nov. 29, 1968 and they just celebrated their 52nd wedding anniversary. Dennis & Diana had a genuine love for each other and you could see how much she loved her husband in the small things she did for him.
With Diana's passing the world has lost a beloved wife, mother, grandmother & great-grandmother. Diana loved her family more than anything and was very proud of her children and grandchildren, and leaves behind nothing but beautiful memories. She instilled in her sons strong values that have served them well. Being a "boy mom" couldn't always be easy, but she raised some outstanding men and taught them how to be good husbands. Diana's grandchildren were one of her biggest joys, she was their greatest supporter in whatever they pursued. They could always count on "memaw" to be there for them, cheering them on or giving advice, and of course memaw hugs!
Anyone that knew Diana knew she loved to shop, she was always game for shopping with her friends, daughter-in-laws and grandchildren. It didn't matter if it was a quick shopping trip or an all-day one, she would always come along. Another one of her favorite things to do was her Choctaw trips. She enjoyed playing the slots – and she won quite a bit, she had good luck when it came to her favorite games.
Everyone that Diana came into contact with will tell you that she was the sweetest person and that she truly cared about everyone she came into contact with. She would always ask about friends and other family members- checking to make sure everything was well with them. She always wanted everyone else to be taken care of and her never be a burden to anyone- that was the type of person she was. Diana was definitely one of a kind and she will be dearly missed and forever in all our hearts.
Diana is survived by her husband, Dennis, son Dennis Jr and Tammy, son Paul, son Michael and Kelly; Grandchildren Jansin, Courtney and Kylee and 2 great-grandchildren.
A private family "Celebration of Life" will be held in lieu of a service. Condolences can be shared with the family by mailing to: 2612 Sabine Circle, Royse City TX 75189 OR online by visiting www.lynchfuneralservice.com.