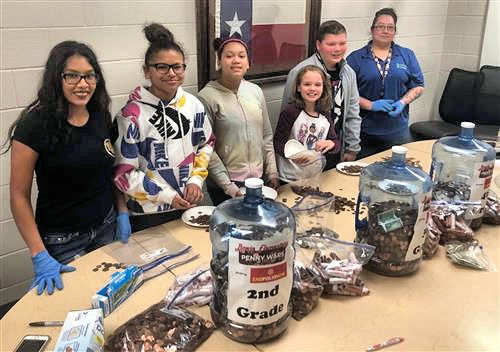 The Bowie Elementary Bulldogs are collecting pennies (and other cash) for Pennies Fighting Polio, a fundraiser led by the Noonday Rotary Club of Greenville, Texas. Each grade level is filling 5-gallon jugs with loose change all week.
This is also a mathematical exercise in that pennies are positive and all other cash is negative. If there are a thousand pennies in a jug, then somebody dropping a dollar bill into a jug will eliminate 100-pennies. One can only imagine what a twenty-dollar bill will do.
Each grade has a strategy to keep scores high. They hold on to all the pennies until the last possible minute. Levi Davenport said, "We held onto most of our pennies until the last day so the other kids wouldn't put a lot of silver into our jug." Students and PTA volunteers sorted through piles of bills and coinage to be taken to Alliance Bank to be run through the coin counting goat to make the scores official.
Fifth-grader Josey Perkins chimed in with the most important bottom line of all: "We are helping children with polio all around the world," she said proudly. "That's what matters." It is a small step but when matched with other Rotary Clubs around the world, polio will definitely take a hit.