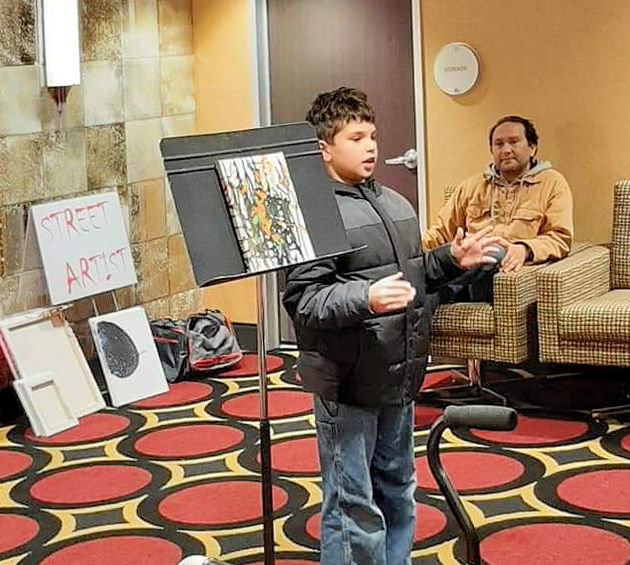 Evan Medina is ten years old, homeschooled, and is already a commissioned artist selling his work. Greenville entertainer, Dennis Wayne Strickland, told the crowd at the Hump Day Happy Hour last week, "that he was driving to lunch and saw this child dancing on the sidewalk". Dennis investigated and saw that Evan was trying to sell his artwork on the street to those passing by. Dennis invited the young artist to exhibit his work at the Texan VIP Room.
The youngster enthralled the crowd with his knowledge of art and technique such as splatter and pour painting. Evan pours bright colors on canvass squares and places another underneath to catch the dripping paints. Sometimes he glues broken mirror pieces to the painting. His father, Gabe Medina, tutored him with painting. His mother, step-mother, and others using the Maker Space Shop encouraged him as well. Evan has been painting works of art for a little over two years.
One of the guests at the VIP Room asks the young artist how much he wanted for the beautiful pour painting resembling a bird. Evan replied, "Ten Dollars"! Another said, "I will give you fifteen". The next thing you know an auction ensued. Evan walked away with forty dollars after all was said and done.